The Reach For All impact initiative aims to bridge the Digital Divide and promote digital equality around the world.
Connectivity matters more than ever.
The Digital Divide excludes 3.9 billion people worldwide from online resources and communities. The disparity in online access among in-need populations takes a toll on personal health, education, and economic prosperity. Amid the COVID-19 pandemic, the need for affordable internet access and connectivity has grown significantly.
Promoting digital equality
We believe that every person can and should benefit from affordable access to the Internet.
In many areas of the world, mobile internet (i.e. a mobile data plan) is the most effective way to achieve connectivity. Through the Reach for All impact initiative, we strive towards a more connected world in two distinct ways:
Reach Mobile's "Get a plan, Give a plan" program empowers U.S. consumers to help bring connectivity to those in need by choosing a mobile service that gives back. We allocate a portion of revenues from every paid plan to fund free connectivity for women around the world.

We offer our platform as a service, enabling governments and educators to provide toll-free mobile access to online content, all without consuming the end-user's data plan. While the entities we work with have funding to sponsor a student's data usage for online learning, or a citizen's mobile access to medical resources, we offer the technology and partnerships to bridge the gap.
To date, Reach for All has enabled 1.5M students worldwide with free mobile access for online learning.
Through Reach Mobile's Get a Plan, Give a Plan program, we have enabled free connectivity for hundreds of women in Nigeria, India, and the U.S.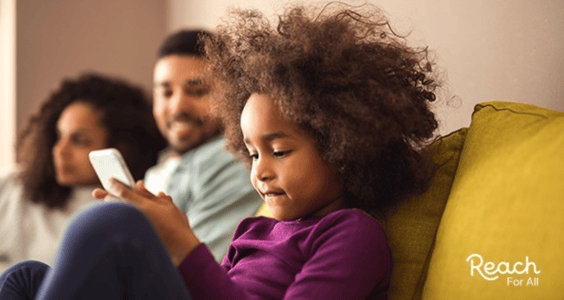 COVID-19 Is Widening the Digital Divide – It's important for us to act
By Harjot Saluja, CEO, Reach Mobile
Meet the recipients: Get a Plan, Give a Plan
Empowered with internet: Jasmati talks about medicine
---
What are people tweeting?